We all prefer to put more money towards the things we really like, such as massage! Check this page periodically for Thrifty Tips to help you save money on everyday purchases so you can put the savings in a massage bank and save up for your next massage sooner!
Lavender Mascara: Add one drop of Lavender essential oil inside your mascara tube to thin out the mascara so it goes on smoother, adds more shine to your eye lashes, lasts longer, and smells great. Added benefits are that the lavender's aromatic influence promotes consciousness, health, love, peace and a general sense of well being. Lavender has antiseptic and anti-fungal properties that help extend the life of your mascara.
Clothes Washing Soap - homemade: Mix the following thoroughly: 1 big box of baking soda (4 pounds), 1 big box of super washing soda (Arm and Hammer makes one which I buy at Walmart, Ace Hardware, or Raleys), 1 boxes of borax (4 pounds) and 1/2 of the 80 wash box of Tide (whatever scent you like, or unscented). Use a BIG bowl or crock and stir well with a wooden spoon. Store in an attractive container with a lid. I like to saturate an antique hanky with lavender and lemon essential oils and leave in the container to fragrance the soap. Did you know that lemon oil is antiseptic and anti-viral? For added disinfectant power add 1/2 cup white or apple cider vinegar to the wash, putting it in the bottom of the washing machine along with the soap before you load in the clothes, as usual. Use 2 or 3 Tablespoons of the Clothes Washing Soap per load, depending on how soiled the laundry is.
* armandhammer.com and livestrong.com/article/295678-what-are-the-benefits-of-using-sodium-carbonate/ and ehow.com/how_4584731_use-vinegar-as-bleach-alternative.html
Dishwasher Soap - homemade: 1) Add 1 cup washing soda, 1 cup borax, and 1/2 cup citric acid, 1/2 cup kosher salt. Combine and use 1 Tablespoon per load. I use this one and got it from https://wellnessmama.com/12217/homemade-dishwasher-detergent/
2)Mix equal parts borax, baking soda, and super washing soda (this is sodium carbonate. I use Arm & Hammer brand which I find at Ace Hardware or Raleys. This is different from regular baking soda which is sodium bicarbonate). Use 2 Tablespoons of the mix in your automatic diswasher instead of the store-bought variety. Savings: 5 cents a load vs. 30 cents. Downside: Glassware won't have that water-spot-free look... so save the store bought soap for when you're having company or want to impress yourself with sparkling stemware! Savings over a year: 360 washes at a savings of 25 cents each = $90.00, which equals a 90 minute luxurious massage. :)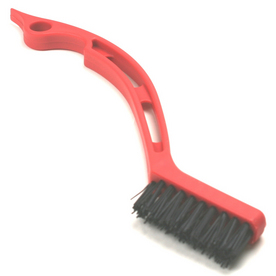 Grout Brush: $1.38 at Lowes -- very handy for lots of everyday cleaning jobs... more sturdy than many household cleaning brushes at higher prices...
Send me your thrifty tips and I'll post them here so we all can benefit from knowing them.